An Integrated Approach to Data Centre Management
Monitor & Maintain your Passive Assets
Changing the Landscape with Evolution Technology Group.
Modern data centers are complex ecosystems. Virtualization, Cloud, Big Data, and Internet of Things have spiked data center workloads; which in-turn has surged the number of servers, storage, and power consumption. In particular, facility costs is growing four-fold compared to IT spend. Investments in managing the IT layer are shifting to investments in managing the physical layer. The physical layer is now being treated with the equivalent level of significance as the IT layer.
The physical platform is of immense significance since the stable operation of IT is completely dependent on it. The flipside is that, both the IT and data center management realms remain fragmented. As data centers have become more complicated, CIOs and IT Managers are challenged in the process of transforming their data centers lean and clean. In spite of a plethora of DCIM solutions available, data center managers have no effective tool for reconciling power, cooling, security, and IT layer in real time.
ETG's DCIM is a holistic solution that provides unified view of entire data center system that enables real-time optimization of IT layer and physical layer. It enables data center operators to minimize Total Cost of Ownership (TCO ) while maximizing agility and availability.
Data center managers and senior IT leaders have realized that operational savings of 20-30% can be attained through integrated management of IT and the physical component.
Bridging the DCIM Gap
The data center is the epicenter of the enterprise, but for too many years IT and facilities has been treated as two different silos. Any change in one component of data center equipment can have detrimental impact on other components. DCIM encompasses IT infrastructure layer (such as servers, network switches, routers, LAN, WAN, and storage arrays) and data center facilities layer (such as power distribution unit (PDU), computer room air conditioning (CRACs) unit, switching equipment, data center security system, and more). The later enables IT realm to function.
The sheer number of server growth, tools required to monitor these servers makes it even more challenging to manage and track performance. ETG's DCIM's integrated approach offers a true DCIM solution that uses wide range of communication protocols – such as SNMP, SSH, Telnet and like for IT assets and MODBUS, BACnet, Metasys and more for passive assets.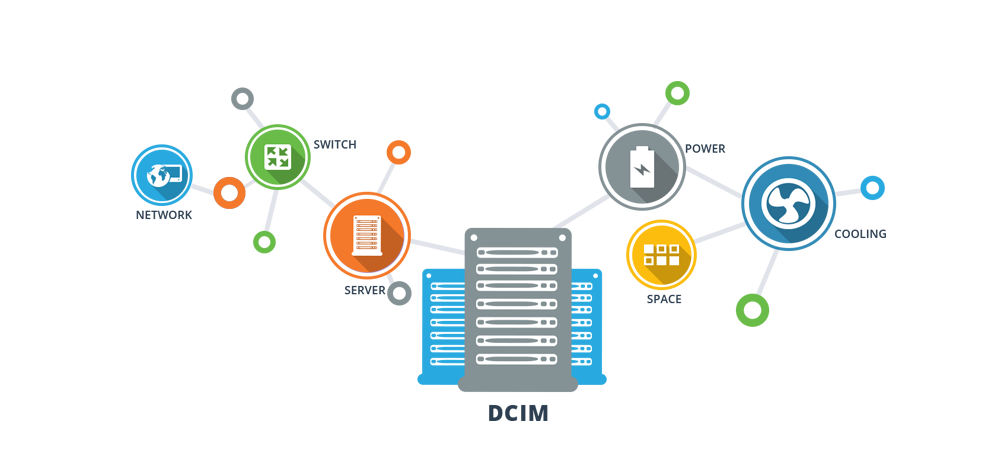 Evolution Technology Group's
Data Centre Infrastructure Management
provides the comprehensive support that today's complex data center environment demands comprising reporting, monitoring, and analytics of power, cooling, and environmental parameters.
As the primary objective of data center managers is to curb inefficiency and check rising costs, considering the management of these fragmented infrastructures through a single console reduces the cost and integration issues.

Integrated Layers. Get Operational Insights
Unified view in a single console.

As energy costs account for huge chunk of data center operating cost, reducing energy consumption and costs is the primary concern of data centers operators worldwide. Lack of complete view of energy usage throughout the data center infrastructure hinders green initiatives.
Evolution Technology Group's Data Centre Infrastructure Management helps data center operators to protect the planet while saving potentially millions by reducing energy consumption, energy costs, and carbon footprint. Series of sensors installed across the data center ensures that all the equipment is operating within the optimum temperature range.
Know your real time power consumption at every point in power chain

Eliminate stranded power

Monitor room Power Distribution Unit (PDU)

Precise control of air flow across the racks and rows increases energy savings

Identify energy consumption trends
Evolution Technology Group's Data Centre Infrastructure Management enables operators to create a customized dashboard with easy drag and drop to monitor power consumption, server utilization, battery utilization, PUE (Power Usage Effectiveness), and DCIE (Data Center Infrastructure Efficiency).

With the Evolution Technology Group's DCIM data center operators can manage entire asset in a single repository. They can have greater command-and-control over IT and physical assets, optimizing the utilization of assets throughout their lifecycles, from acquisition to decommissioning, and holding vital knowledge at the fingertips.
Evolution Technology Group's DCIM maintains a tight control over assets, identifies underperforming server, and averts inefficiency created by server and application downtime.
View complete inventory of all data center assets including floor PDUs, UPS, servers, network switches, CRACs units, and more

Availability management: Proactively identify the effect of failures and maintenance outages on data center service levels.

More management systems in the data center mean more alerts. Evolution Technology Group's DCIM solution cuts through this noise – as alarms are classified and prioritized during implementation.
Centralized system allows for a faster, more efficient response to system problems. Strategically located sensors detect rack conditions to prevent against threats including malicious or accidental tampering, smoke, temperature, fire, and leak. Evolution Technology Group's DCIM also monitors the health of battery and alerts on preventive maintenance and replacement. Capacity related alerts are escalated when there is a reduction in available cooling or power capacity at the row, rack, or room level. Sensors integrated to security system raises alert during security breach or any unauthorized access into data center.
Automation. Say goodbye to manual audits. Automate the scheduling and execution of infrastructure service requests, eliminating repetitive tasks and speeding time-to-delivery.

Automate routine events. For instance, automatically increasing the airflow within a certain set of racks due to sudden spike in CPU temperatures.

Risk management: As data centers are daunted with more and more regulations compliance such as Sarbanes-Oxley, HIPAA, PCI DSS, or other compliance standards. Data center managers need to focus on best practices to meet risk management.

As the amount of data generated continues to skyrocket, Evolution Technology Group's Big Data module unlocks business value and enables effective planning. Evolution Technology Group's DCIM coupled with in-depth analytical tools puts wealth of raw data from IT and passive assets into performance microscope.
Unified and granular view of numerous data center information empowers DC managers with necessary information they need for effective decision-making.

The absence of visibility across IT and facilities systems and the wide fluctuations in demand that occur in many data centers, has eroded the transparency between business requirements and data center capacity.
Evolution Technology Group's DCIM creates a precise picture of infrastructure that helps data center operators to forecast future capacity requirement and provisions to support tomorrow's business initiatives. Understanding the interoperability of space, power, and cooling is critical to suggest configuration changes and to make more informed business decisions. Cooling management system enables to manage temperature, humidity, and airflow in row, rack and room level. Evolution Technology Group's DCIM helps data center managers to confront questions such as.
Can I deploy blade servers using my existing power and cooling capacity?

From a power and cooling perspective, which is the optimum location to deploy the proposed IT equipment?

Monitor room Power Distribution Unit (PDU)

Where should I place my next server?

Can I install new equipment without overloading existing hardware?
Unified Data Centre Infrastructure Management –
Achieving Data Center Efficiency Beyond IT