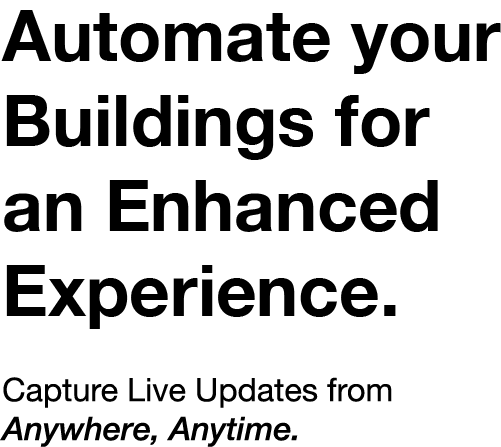 Imagine
One touch on your tablet turns on the lights in the room. As you rush to your office, one swipe of your phone checks all the windows are closed before you step out. When the sun sets, your lobby light turns on. Automatically. ETG's Smart Building Solution for businesses offers a wide array of applications from building automation (building security, energy management, comfort, and automated entertainment), cloud integration (management of sensor data), and e-Health solutions.
No matter where you are, control every aspect of your building. Evolution Technology Group plays a pioneering role in ushering latest technology in future smart buildings through wireless technology such as Wifi, Zigbee, and GSM for effective monitoring. Inject intelligence into your gadgets from smart wireless locks, refrigerators, to internet connected light bulbs, Evolution Technology Group enables you to connect broad range of devices effortlessly! Protecting your buildings and workspace need not be complicated or expensive. ETG's Smart Building powers your establishment with an automation system – within your budget.
Best of all, our primary focus are:
Security and safety
Saving time
Saving money, especially around energy consumption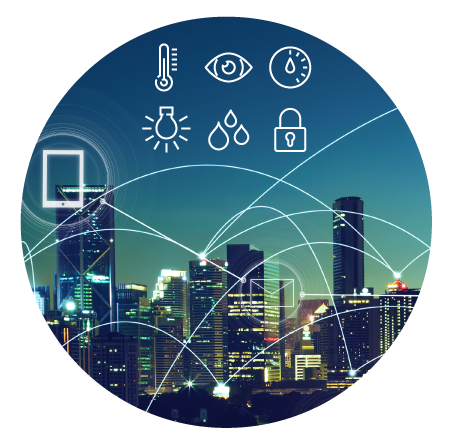 Benefits & Features
Security is the first step towards smart homes. We help you to lead a more convenient, and secured life than ever before.While you are on a business trip, you want to know what's happening at your front door? It's simple, just hop on your tablet and view the video feeds from your security camera.
Automated Security provides 24×7 surveillance to safeguard your home and loved ones against intrusion, gas leakage, or fire. Motion detectors, gas leak detector, cameras, and the alarm system are networked together. During a security breach or an emergency, an alert is raised to the family circle via SMS.
The monitoring system can also be configured according to your requirement. For instance, the security system can even be programmed to ring-up the nearest police station or fire station during an emergency. Outdoor security system expands your protection environment and guarantees higher-level of security. You can now monitor activity surrounding your home and pre-program to record events when any unusual movements are detected.
Have you ever worried about why your power bills are high? With Automated Energy Management you can easily track power-hungry appliances ( might be your water-pump or cooling system ) and keep them in check!. ETG's Energy Management system indicates your energy consumption pattern, raise alert on which device is costing more to you, and even suggests energy efficient improvements.
Occupancy sensor detects inhabitant of a space by people and turns the lights on/off automatically when the room is unoccupied. Automated lighting dimmers pick data from the environment and adjust light illumination. Heat, ventilation, and air conditioning plays a central role in smart home as it enables remarkable energy savings.Temperature sensors adjusts temperature flow and manages heat and air-conditioning of the room so that no more energy is wasted.
Have complete control of every light in the house from anywhere – for perfect ambience, comfort, and cost savings.Program your lights to turn on automatically when you enter the home. Switch-on the lights in one-touch when you are in a vacation so that the house looks occupied.
Motion sensors provide hand-free lighting in the dark. Combine lighting with your home theater, so that your lights dim when you are ready to watch a movie.
Work and travel will not keep you away from home. Receive update about activity in and around your home from any remote location.Video intercom enables two – way communication with your loved ones from anywhere. Interact with elderly people, make sure your kids reach home safely, and watch them playing from your smartphone.
Evolution Technology Group's Smart Home understands and reacts to your routines and behavior, saving you both time and money by automating the tasks you would typically do manually .
ETG's Smart Home enables to customize your smart devices according to your behavior. After a long drive, you can drive into home without the hassle to open the gate. Vehicle detection system enables automated gate opening. You can also schedule actions to respond automatically when different events happen. For instance, you can preset the air-conditioner to be switched-on when you reach 2 kms away from home.
The digital addiction has triggered the need to stay connected. Proliferations of smartphones and tablets have been a huge enabler for smart home applications as portable devices are the perfect match. Smart Home creates a truly connected ecosystem, linking all your appliances and enabling you to take control of them via variety of interfaces (such as smartphone, desktop, laptop) remotely from anywhere. After you had left the home, when you suddenly doubt whether the doors are locked and lights are turned down, smart home crackdowns your helplessness and worry until you get home again. You can now turn on/down any device from anywhere through your smartphone or tablet.
Customize the system to receive alarm in several ways, including sending a SMS, recording a video, Phone calls, notifications, and email can be sent to trusted circle when security alert is triggered.
ETG's solutions are aimed at providing complete control and monitoring of buildings and communities to make them safer, more secure and to improve their facility operations.
Our solution provides a single point control via Kiosks or Smart Apps for practically everything in the community – from safety/security sensors to monitoring of water tanks, STP, energy meters and more. Most third party solutions can be integrated for a single point monitoring or control access. By incorporating maintenance management and community management features, the system also extends to enable cost-effective facility operations.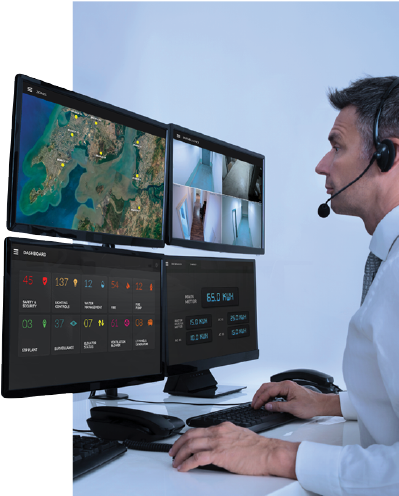 Safety & Security
ETG's solution records every emergency event received through smoke, gas leak and intrusion sensors and sends notification on Smart Apps, emails, SMS etc. to all relevant parties. It allows quick review of Camera feeds to ascertain the situation and enables Emergency Communication rapidly to all affected parties, again via notification, email and SMS to facilitate quick action for mitigating the emergency.
ETG offeres perimeter security with laser beam and ultrasound beam hardware. These are monitored via ETG's IBMS and can provide notifications when these beams are disrupted.
ETG's VDP's operate from the lobby to individual apartments to facilitate entry of guests. Outside door, individual VDP unites are also an available option where required. The notification from VDP and door bells can be received on indoor screen hardware and on Smart Apps when occupants are away. Automated door lock is an option that is offered to occupants and is integrated with the VDP.
Any 3rd party IP camera, DVR or NVR used in the building can be integrated into ETG's IBMS to provide contextual visual feed of zones and in the event of an emergency, the specific camera feeds can be quickly reviewed. These camera feeds can accessed via Smart Apps.
Facility Operations

ETG's IBMS allows complete control of all facility lighting for common areas, podiums, parking and landscaping. Zone based lighting control and status are offered in the IBMS. Profiles can bet set up or automatic scheduling can also be enabled to offer convenient, and energy efficient operation of lighting.
ETG's IBMS enables monitoring of 3rd party Smart Meters via ETG's middleware. It also allows operational monitoring to DG sets and UPS for battery status as appropriate. ETG's high capacity IOT network nodes also allow energy consumption monitoring for high capacity devices without the need for sub-metering.
Evolution Technology Group's IBMS enables monitoring of 3rd party smart water meters via ETG's middleware. It allows monitoring of water tanks, control of pumps and sprinklers. It can also provide the status of STP's.
Most 3rd party elevators can be monitored for status of their operations displayed by ETG's IBMS. Elevators constitute a critical element of building operation which needs to be monitored for operational convenience and for safety reasons, and this is enabled by ETG's IBMS.
Community

Evolution Technology Group's IBMS offers smart apps that can be used by building occupants to generate service requests. These requests can be monitored by the facility management personnel for assigning maintenance task, scheduling PM's, managing property & asset data, history management, maintenance and more.
Evolution Technology Group's IBMS enables notices to be sent through smart apps and email to all occupants, individually or collectively. This is a great aide for communicating information that impacts occupants on a daily basis.
ETG's IBMS offers the ability for building occupants or staff to reserve rooms or equipment that is set aside for such sharing. Common calendar allows those with user access to reserve it and for others to see when the facility/asset might be next available to them.