Resolve Tower Monitoring Dilemmas With An IoT – Powered Approach.
Monitoring cell tower sites from a centralized location is becoming increasingly difficult with expanding networks, increasing OPEX and significant security threats. Poor maintenance of assets and non-visibility on energy consumption only add to the complexity. Profits are getting leaner and SLAs tighter. An end-to-end site monitoring solution built on an unified IoT platform could be the panacea for tower operators' woes.
With Evolution Technology Group, benefit from our research and IoT expertise across industries. Experience holistic tower monitoring and an ability to leverage connectivity across multiple IoT solutions.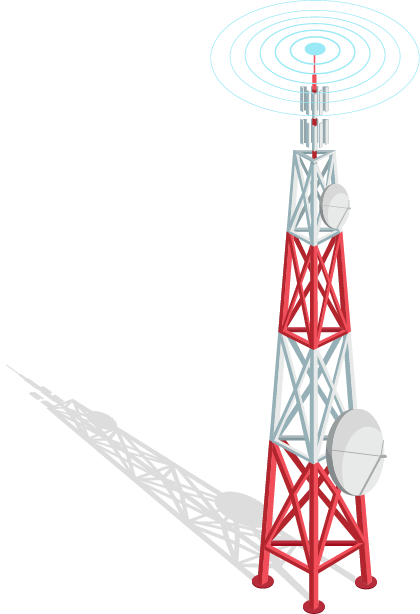 Business Challenges are Evolving, so should your Solution.
The need of the hour is ensuring secure, energy-efficient and well-maintained remote sites. Evolution Technology Group's Cell Tower Manager delivers all your requirements on a single screen.
Key Challenges Operators Face

A Holistic Solution to enable the Next Level in Tower Monitoring.
With a modular design enabling you to pick and choose the capabilities your business requires, feel empowered with a tailor-made CTM solution that fits your business problem to a tee.
Energy Management
Swap between multiple power sources – power grid, DG and battery backup to ensure continuous up-time and efficient usage

An energy meter measures various energy consumption parameters and the CTM solution delivers multiple reports on consumption patterns

Cut down on energy consumption and outages with planning based on consumption reports

Monitor battery charging cycle through current sensors

Temperature sensors measure ambient temperature and help optimize energy consumed by the cooling system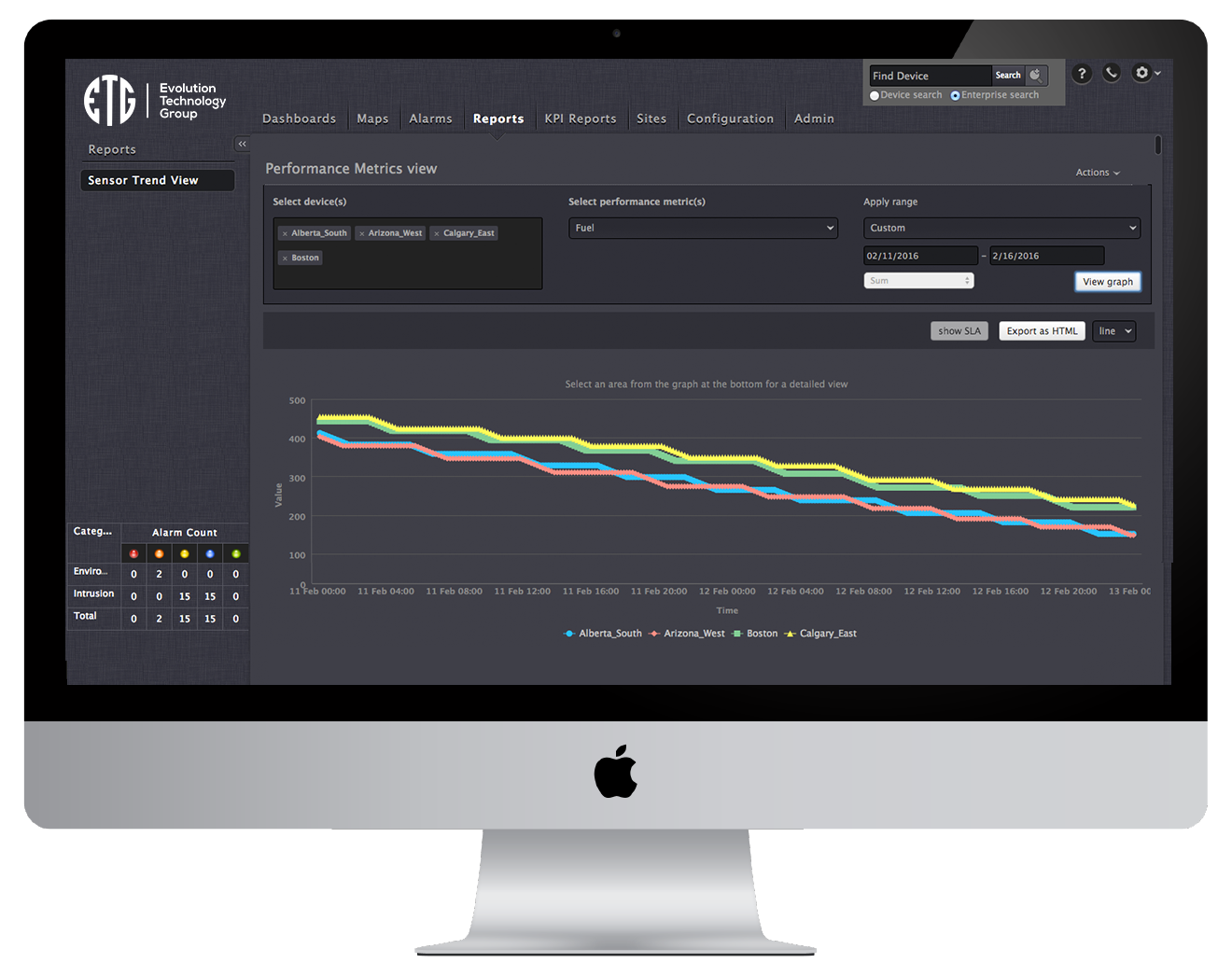 Reduction in Energy
Consumption upto 20%
With Evolution Technology Group's Cell Tower Manager , you ensure maximum efficiency and lower OPEX
Related Sensors
Energy Meter

AC/DC Current Sensor

Temperature Sensor
Remote Security & Surveillance
Secure your site
Regulate access to remote sites. PIR Sensor detects unauthorized movement in the site and raises an alert

Vibration detectors sense and raise an alarm in the event of tampering of high value assets

Smoke sensors and temperature sensors detect the breakout of a fire and trigger instant local actions such as raising instant alerts, sounding a hooter at the site, triggering messages to fire department or turning on the water sprinkler system.
A 24/7 third-eye
Monitor the remote sites 24/7 with on-site surveillance cameras and stay updated
Door Contact sensors indicate if a door is open or closed. An alert is raised if a critical door is open leading to possible hazards
Related Sensors
PIR Motion Detector
Door Contact Sensor
Smoke Sensor
Temperature Sensor
Vibration Sensor
IP/Snapshot Camera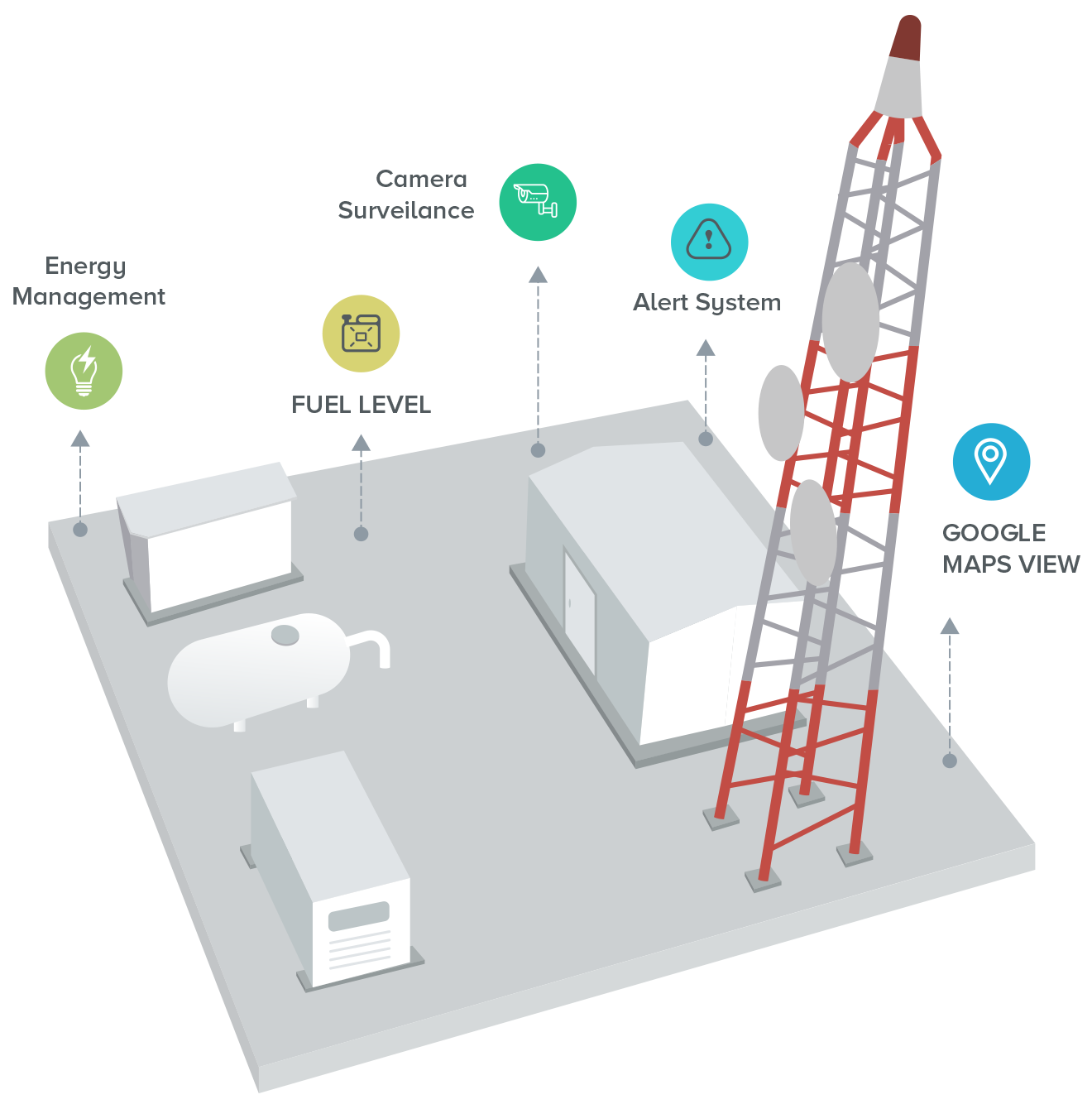 Asset Management
Reactive Maintenance of assets leads to poor performance, high costs and increased downtime.
With ETG's CTM, constantly monitor the health of assets with customized dashboards

View Reports on asset performance

Get notified of any deviations in asset performance

Perform predictive maintenance on assets to prevent expensive breakdowns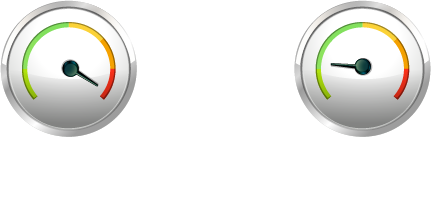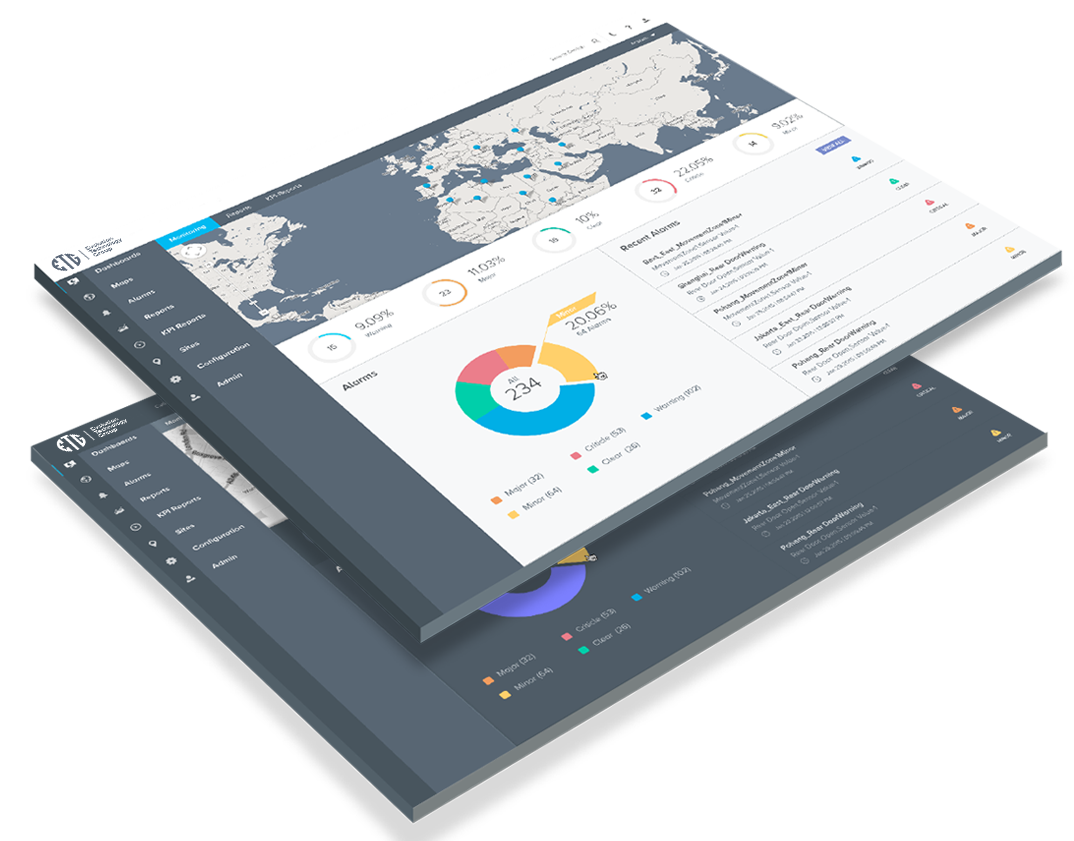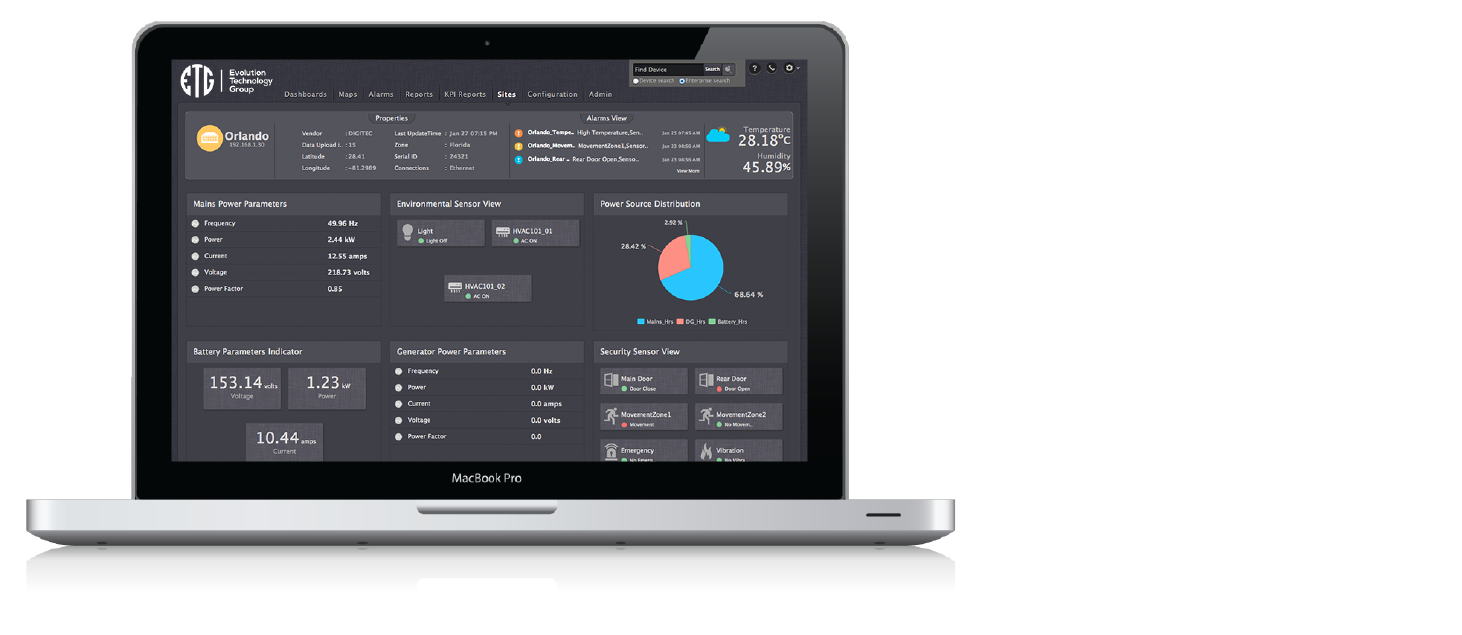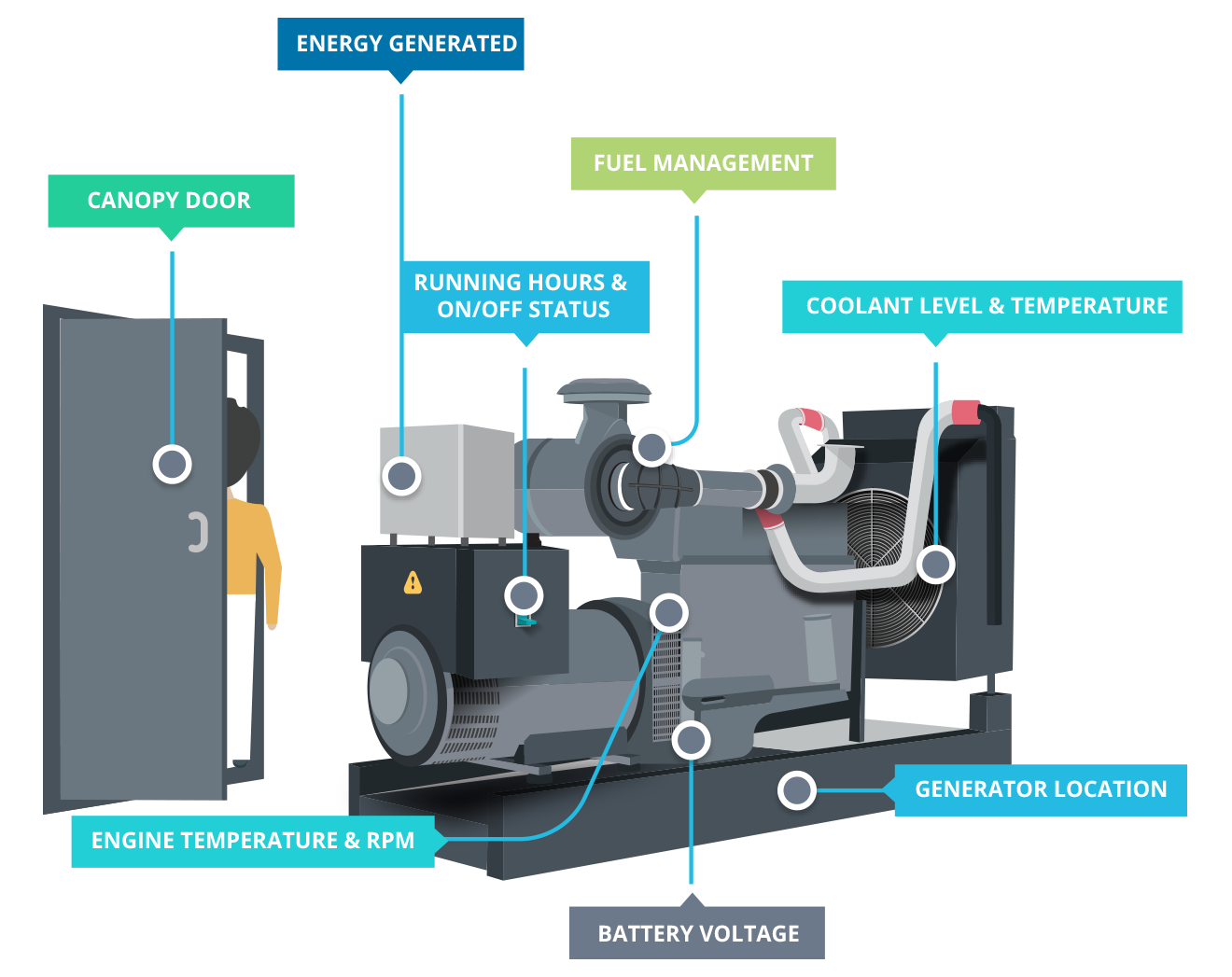 DG Monitoring
Fuel level sensors help monitor fuel level and indicate when the next refill is due thereby preventing shortage and downtime

Prevent fuel pilferage by identifying abnormal fuel level changes. Door sensors and motion sensors detect unauthorized access

Leakages are detected by flow sensors measuring input and output flow and an alarm is raised

View reports on quality and levels of energy output with data from the energy meter
Related Sensors
Fuel Level Sensor

Energy Meter

Flow Sensor

PIR Motion Detector

Door Contact Sensor
Bringing Togther the Best Devices and Experiences
The Evolution Technology Group's Cell Tower Monitoring solution is a complete package comprising hardware, software and sensors. Right from the physical touch points to the user interface, the solution has it covered, providing complete and efficient monitoring.
Freedom to make the Right Decisions
Not all businesses are similar and not all monitoring solutions work the same. With Evolution Technology Group, you can choose the best devices and sensors to suit your unique needs and bring them together on the powerful Evolution Technology Group's IoT platform powered by Web NMS. The outcome is a futuristic tower monitoring solution to ensure just the transformation your business needs. Customisable, scalable and interoperable – you have the right foundation to integrate tower monitoring with other IoT solutions and get a complete grip over your business.
Expand your imagination and do away with the silos – join the bandwagon of futuristic organisations.
Components of the Solution



Gateways
The Gateway devices facilitate communication between the sensors and the software application. The sensor data are suitably pulled by the gateway device and presented to the software application.
Sensors
Multiple sensors act as the physical touch points collecting and feeding data and parameters to the gateway device.
Energy meter

AC/DC current sensor

Temperature sensor

Fuel level sensor

Flow sensor

PIR motion detector

Door contact sensor

Smoke sensor

Vibration sensor
ETG IOT Platform
Evolution Technology Group's IoT Platform which is powered by Web NMS provides the base for the software component of the Cell Tower Manager solution. The platform possesses the capabilities to receive, analyse and make sense of the date received from several thousands of sensors and to provide control and insights to the user.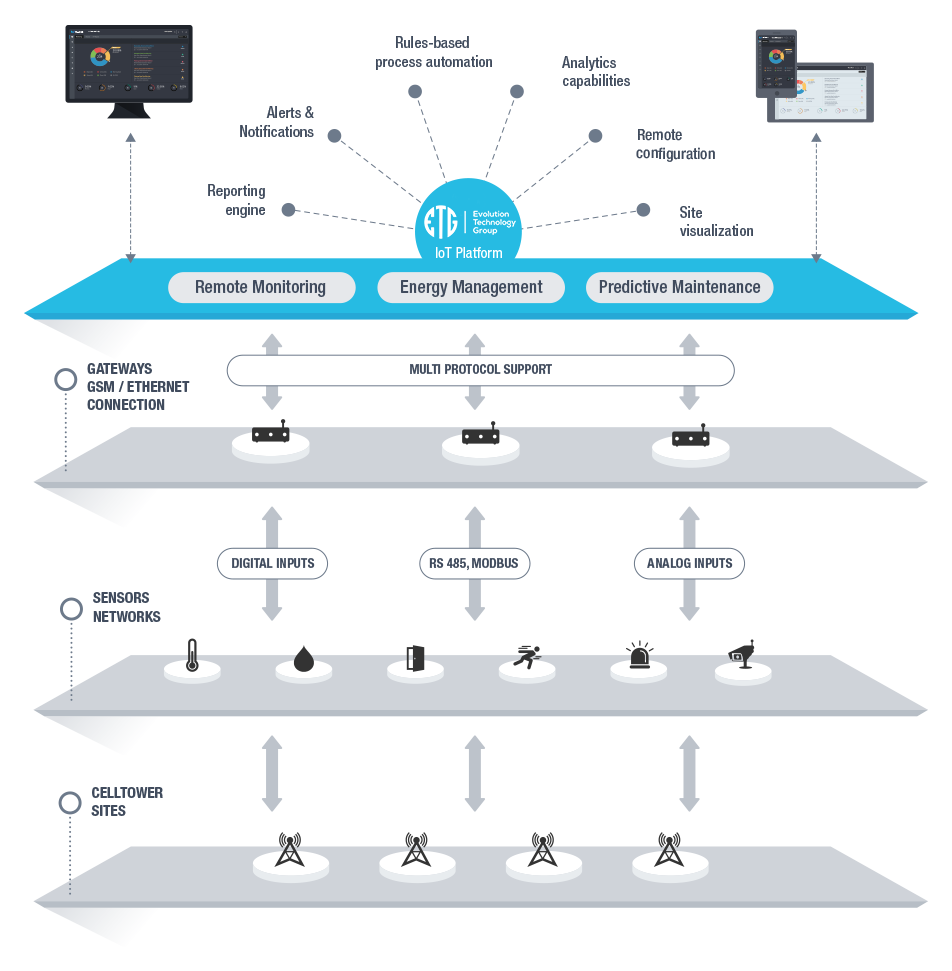 Simplify Remote Site Monitoring. Transform Your Business.
With Evolution Technology Group's Cell Tower Manager, experience a multi-faceted solution covering all aspects of tower site management comprehensively. Be assured of operational excellence, heightened security and a bird's eye view.
Temperature based HVAC control
Managing cooling loads has become increasingly significant. Intelligent temperature sensors installed in the cell tower room enables precise control of air temperature range. A sensor mounted on each equipment ensures that all the equipment are operating within the suggested temperature level. Adding to this, Evolution Technology Group's Cell Tower Manager integrates temperature sensors with the cooling system and this helps maintain optimum temperature within the cell tower room reducing cooling costs.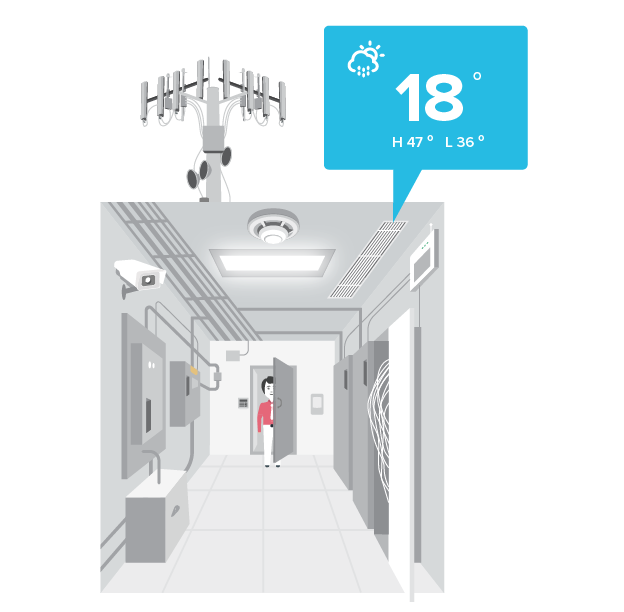 Monitoring power consumption
Monitoring energy consumption is vital as energy costs form a huge chunk of operating expenditure in managing cell towers.
Evolution Technology Group's Cell Tower Manager keeps track of the three power input sources viz main power, generator power, and battery power. Get a comprehensive picture of energy usage pattern, power availability, power outages, duration of backup power level, devices consuming maximum power, and generator fuel level. The system triggers alerts and prompts swift action whenever any of these factors threaten the overall efficiency of the tower. As telecom towers rely on battery backup to maintain constant power until the grid is restored. The RMS solution also fetches and analyses data from battery backup.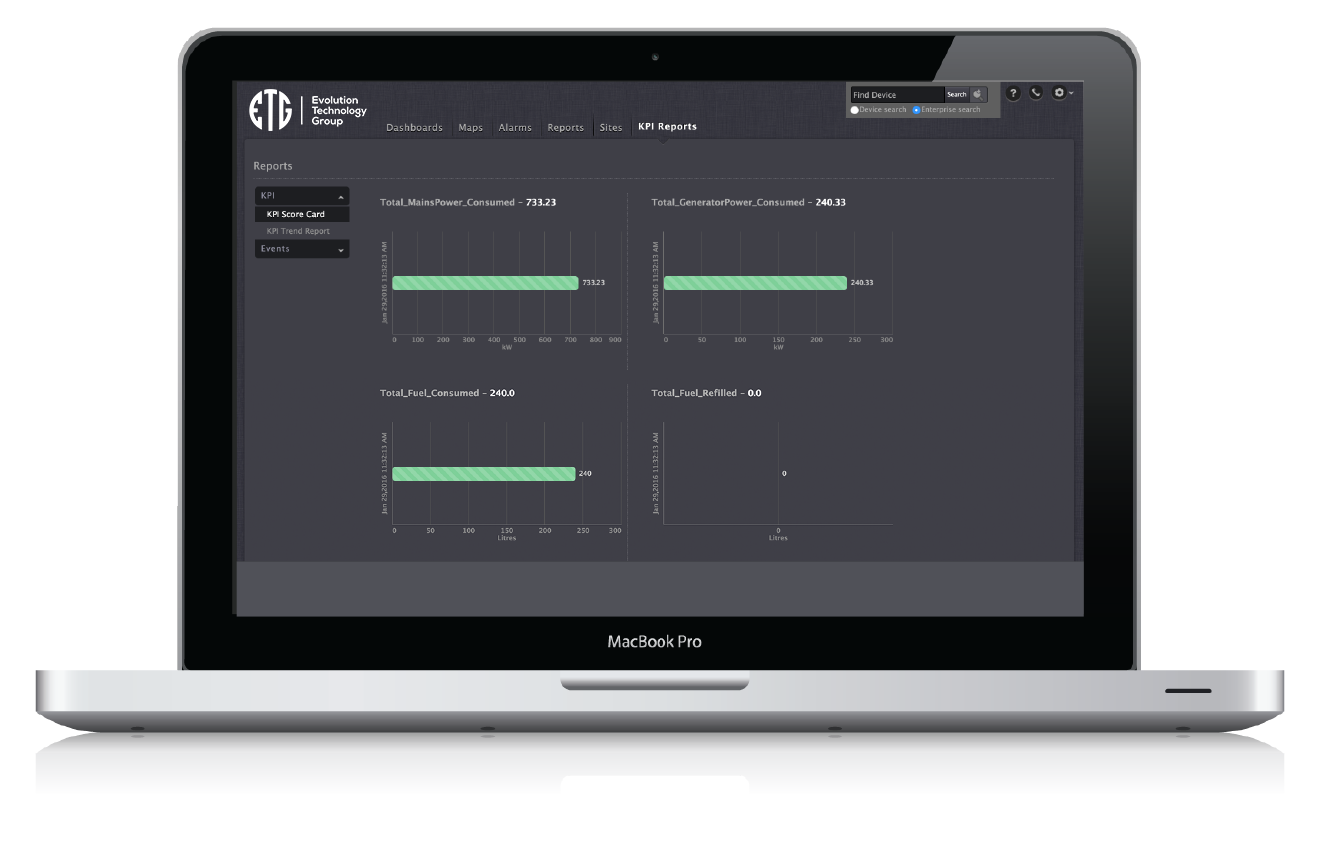 Intrusion detection
Evolution Technology Group's Remote Monitoring solution provides detailed visibility of assets, and protects the cell tower from mafias and any physical security threats.
On-site surveillance camera record suspect movement outside the site. A door monitoring unit is configured to trigger alarms when a door is opened by an unauthorized person. This is connected to Evolution Technology Group's central management system where the collected environment data is escalated for further action. Any tampering of the door or devices inside the site raises an alarm to the operator.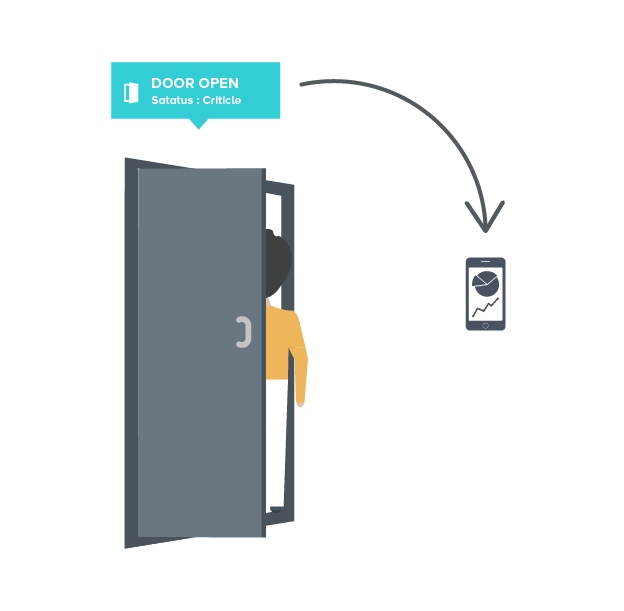 Monitoring asset conditions
The proper maintenance of supporting equipment in a cell tower is highly critical. Ensuring maximum uptime demands 24/7 monitoring of the devices. When a device fails, it can take down mission critical operations.
Cell Tower Manager solution enables operators to take control of generators, battery status, fuel tanks, and cooling system. When a remote cell site goes down, the field technician will receive an emergency alert with complete and accurate information of site location, device that has gone down and the root cause of its failure.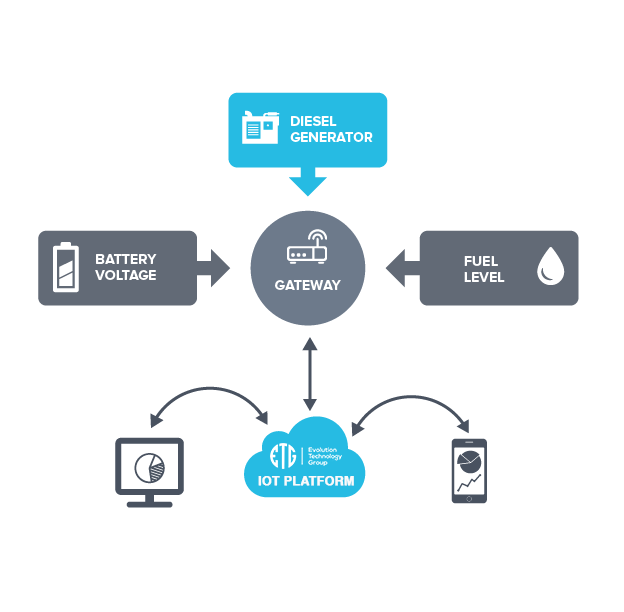 Intelligent control of power sources
Evolution Technology Group's Cell Tower Manager facilitates the operators to optimize the use of alternative energy sources. Power sources can be remotely turned on/off remotely. For instance, operators can remotely switch the power source from generator to battery backup to reduce fuel cost and greenhouse gases emission.
As significant proportion of sites are located in off-grid locations and are dependent on diesel, effective monitoring of diesel level and maintenance of battery will hold the site up.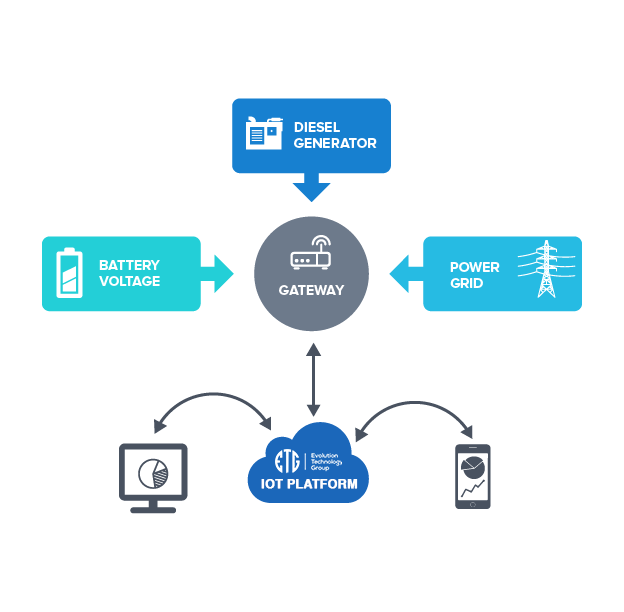 SMS/Email alert escalation
Critical alarms generated from the sensors become relevant only when they reache the right person at the right time. Lack of visibility on an event that could possibly lead to system failure and critical notifications from various locations on a single console- facilitates faster, proactive approach to system problems.
Evolution Technology Group's centralized alarm system provides a single console that ranks notifications based on severity and prevents downtime. For instance, it may be acceptable to concede battery dry-up when fuel level is ample, but not if fuel level is also down.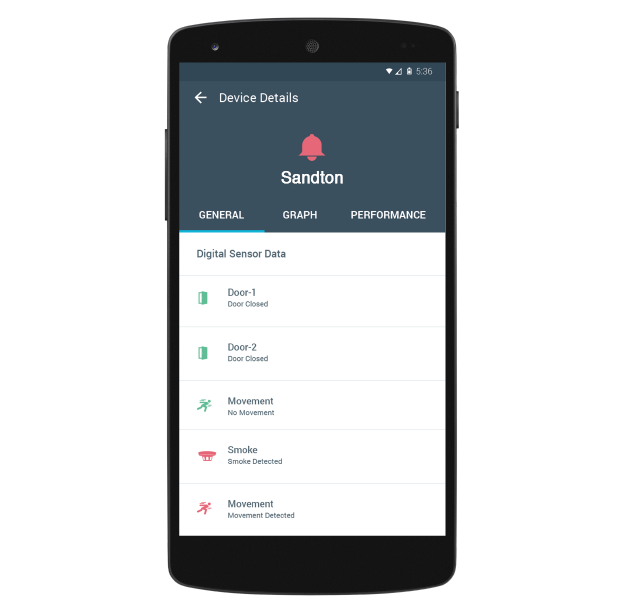 Energy efficient green cell tower
Due to enormous energy consumption, cell tower sites have a large and growing carbon footprint. A green telecom tower is one that operates with maximum energy efficiency and minimum environmental impact. Operators are beginning to get pressurized to resort to energy-efficient business models driven primarily by the government initiative to curb environmental damage.
These carbon targets can be achieved with the aid of Evolution Technology Group's Cell tower Manager for effective energy management of passive assets. Big data and analytics capability of Evolution Technology Group's Cell Tower Manager provides complete visibility of energy consumption across sites.
Managing logistics
Bring in transparency over the supply chain. On many occasions, inaccurate alarms result in notifying wrong vendors and dispatching field technicians without information on a potential failure. Evolution Technology Group's Cell Tower Manager identifies the issue and notifies the right technician with precise problem, so that he is send out with right repair parts. Operators are informed when the fuel level of generator needs to be refilled. This saves time & avoids SLA penalty.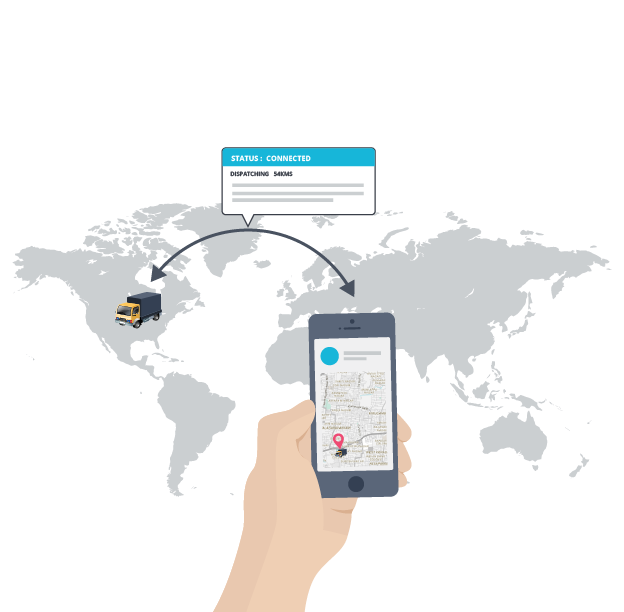 Remote control and configuration
Remote configuration and management of towers gives increased visibility into site assets/ operations. Evolution Technology Group's Remote Monitoring solution enables remote data collection and leverages domain analytics to deliver actionable business insights.
For instance, operators can control power sources, adjust site temperature, and can schedule automated actions remotely.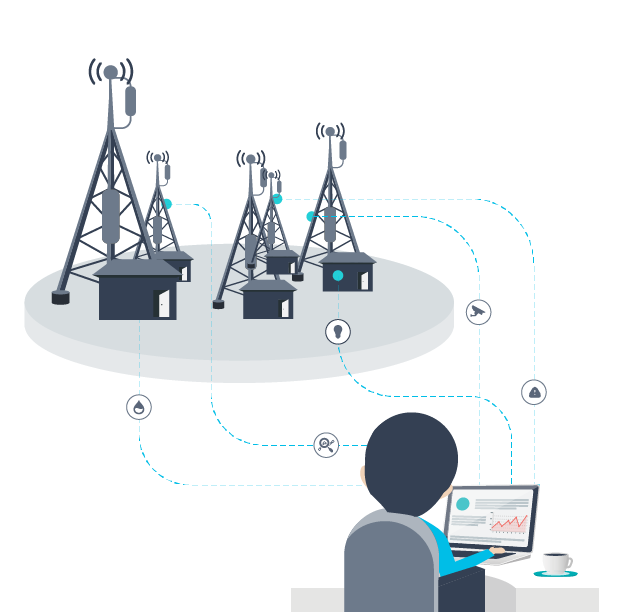 Identifying fire/fluid leaks
A fire or fluid leak can cost thousands of dollars in equipment damage and affect productivity. Leak detection systems connect with sensors positioned in cell tower site detect any leaks across the site and trigger alarms to prevent damage.