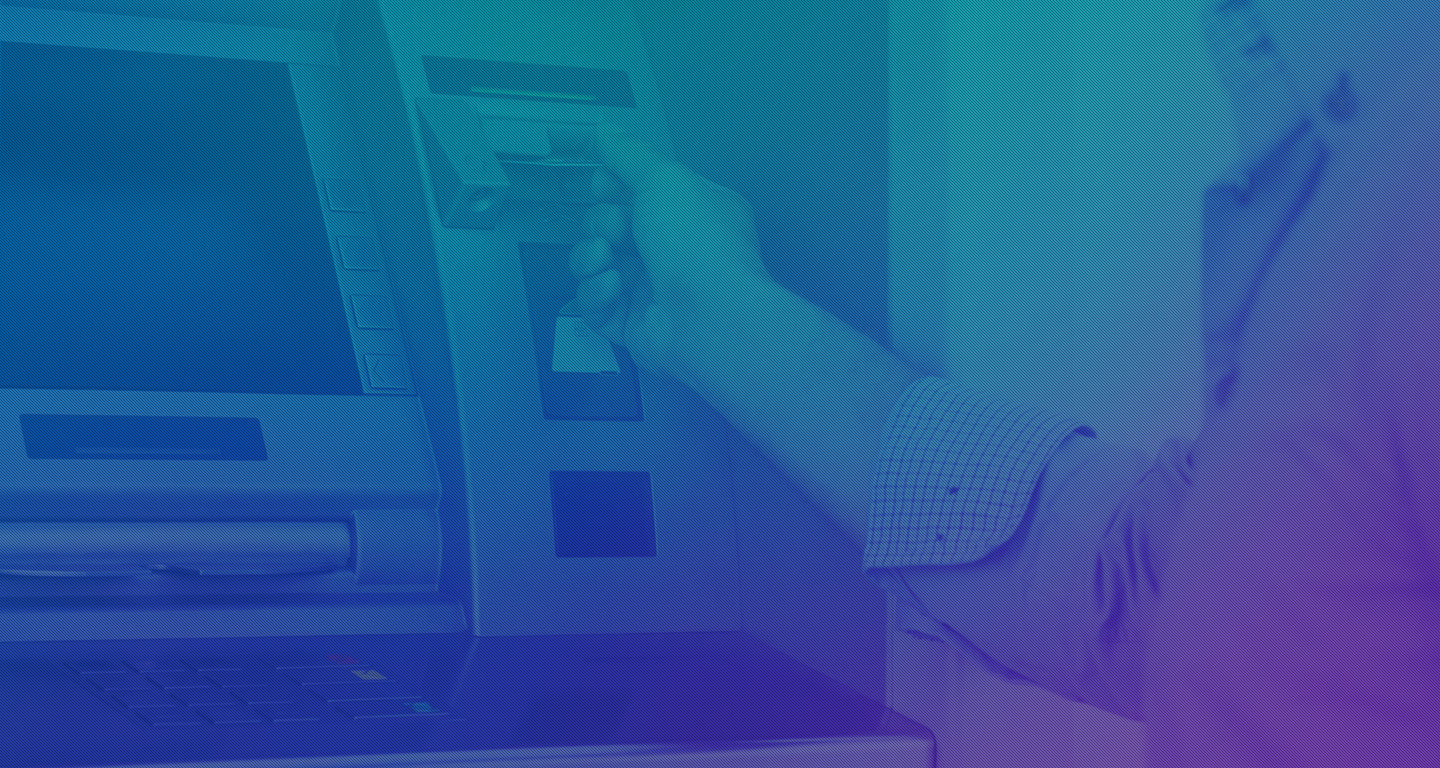 A Smart Revolution to help you
manage ATM Sites better
ATM operators worldwide are coming under the scanner as they struggle to cope with multiple challenges that have made profits wafer-thin. With escalating operating costs, increasing security concerns and demand for higher uptime, the need for better management of ATM sites has become paramount. By delivering complete visibility and real-time control, ETG's ATM Site Manager is enabling safer and leaner remote ATM sites.
Our extensive research and IoT expertise across industries enables us to provide you with a solution to your most challenging problems. Enjoy advanced site monitoring capabilities and an ability to leverage connectivity across multiple IoT solutions.
Smart ATMs to meet your complex business challenges
The evolving landscape has created multiple roadblocks to the efficient operation of ATM sites.
Key Challenges Operators Face

Leveraging IoT to transform the way ATM sites are managed
With Evolution Technology Group, feel empowered to choose just the functionalities required to manage your business. Optimize, monitor and manage the site better.
Energy
Management
Temperature sensor measures the ambient temperature at the ATM site and ensure that the air-conditioning is auto-regulated.
Automate control of lighting devices. Devices are turned On/Off based on the intensity of ambient lighting, preset schedule or by detecting customer presence at the site.
Continuous monitoring of multiple power sources to ensure maximum up-time and efficient usage.
Monitor backup power supply and receive instant alerts of critical incidents. View parameters such as battery level, health and charging cycle stage in real time.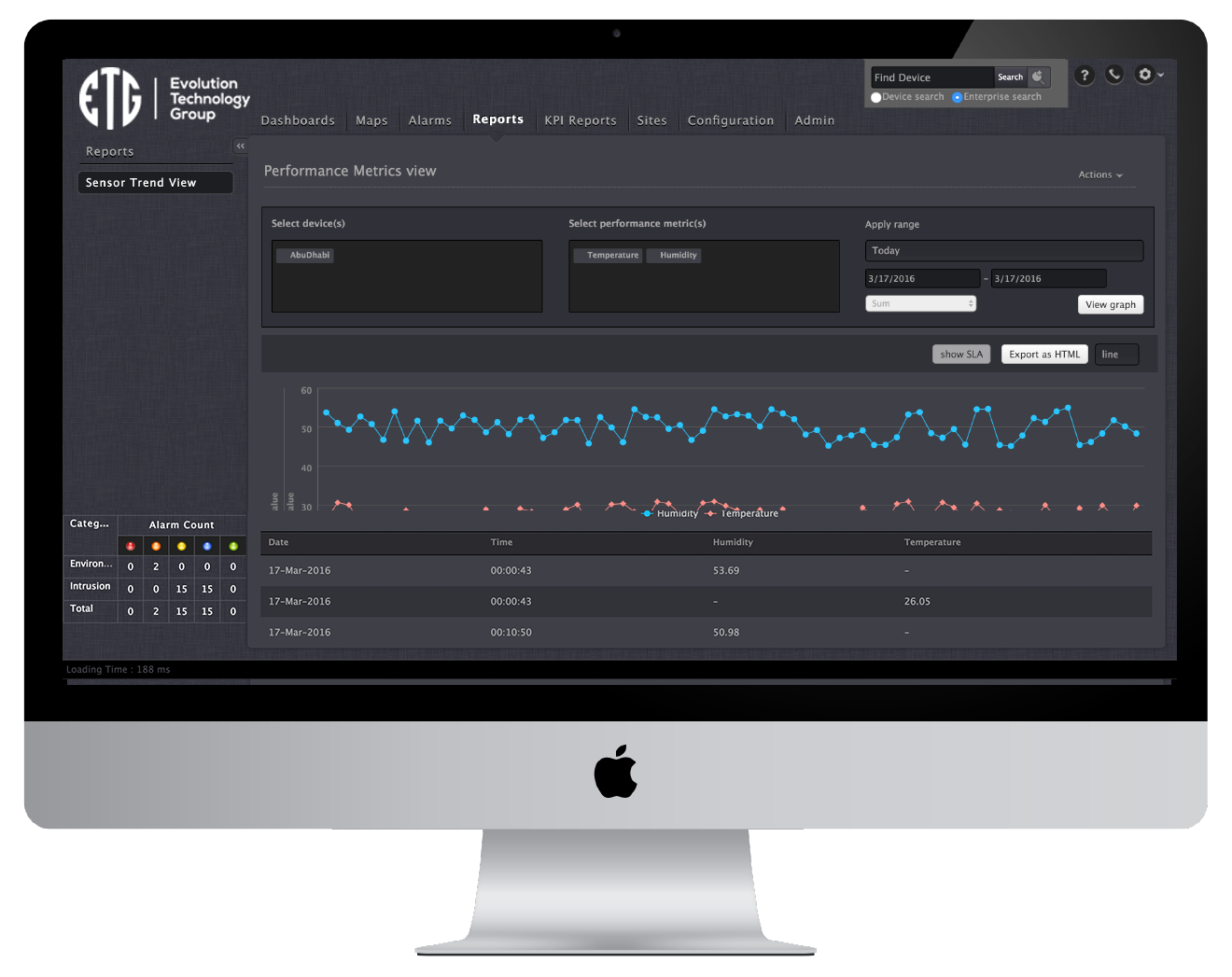 Reduce Energy Bills up to 40%
with Evolution Technology Group's
ATM Site Manager
Minimise OPEX and Boost Profitability
Related
Sensors
Ambient Light Sensor

AC Energy Meter

DC Energy Meter

Temperature Sensor
Remote Surveillance
Monitor the ATM site 24*7 with on-site surveillance cameras. Get a 360 degree view of the site via live feed or event-based snapshots
Monitor and maintain a record of entry and exit of customers and other personnel into the ATM vestibule
Door Contact sensor indicates if the door is open and raises an alert
Related Sensors
DVR/Snapshot Camera
Door Contact Sensor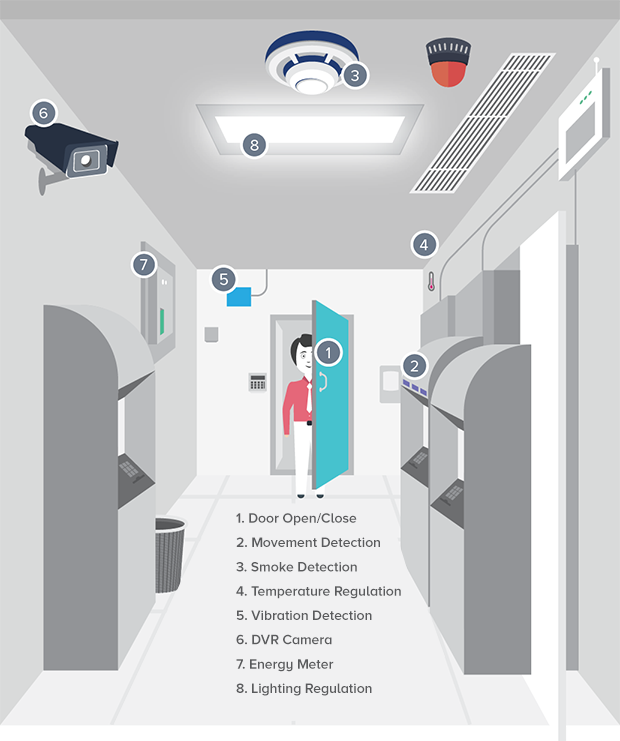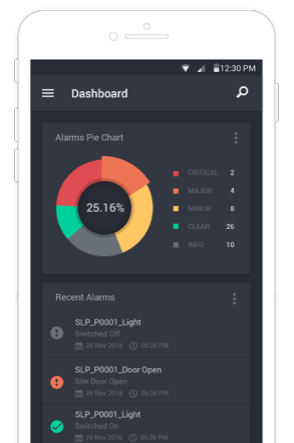 Active Security
PIR sensors detect unauthorized movement within the ATM site and trigger alerts.
Vibration sensors placed on ATM machines detect tampering and raise an immediate alert/alarm.
Smoke sensors and temperature sensors detect the breakout of a fire and trigger instant local actions such as raising instant alerts, sounding a hooter at the site, triggering messages to fire department or turning on the water sprinkler system.
A Panic Switch at the site can be operated by in case of an emergency or threat. The switch is connected to the system, automatically raising an alert to the operator and sounds the hooter.
Related Sensors
PIR Motion Detector
Vibration Sensor
Smoke Sensor
Temperature Sensor
Panic Switch
Personal Monitoring
Regulate and monitor access of service personnel to the ATM site.
Attendance management of service personnel to ensure maintenance schedules are maintained.
Record the entry and exit timings of personnel and customers.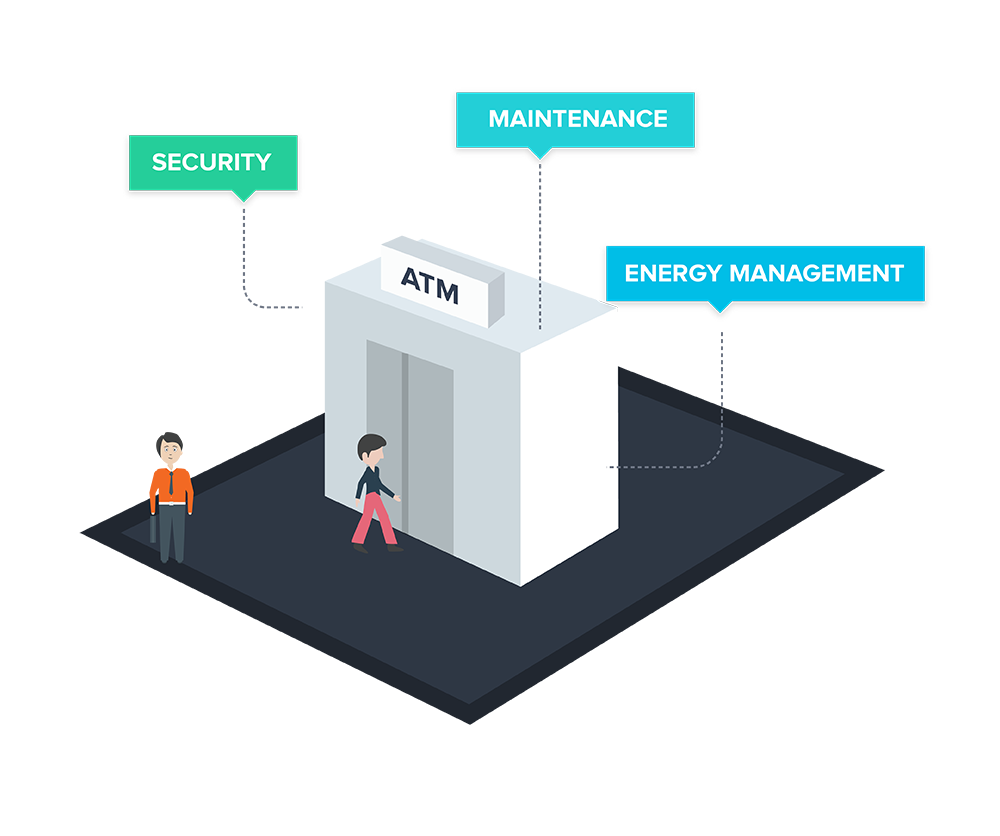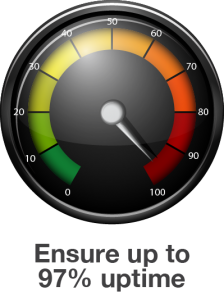 Asset Management
Monitor the health of passive assets in real time, view critical asset parameters on customizable dashboards.
Alerts and notifications are triggered when deviations in asset performance are encountered. The actionable conditions can be easily configured by the operators.
Perform predictive maintenance of assets ensuring maximum site up-time and prevent expensive breakdowns.
Site operators instantly receive alerts when an ATM site encounters a fault, with details of device and accurate site info.
Immediate allocation of incidents to technicians ensures the response time is shortened and SLAs are better met.
Bringing Together the Best Expertise, Devices and Experiences
Evolution Technology Group's ATM Site Manager solution is a comprehensive solution to address your monitoring needs. Comprising of hardware, software and sensors, the solution has it covered right from the physical touch points to the user interface.
Safety and Efficiency in a Package
Monitoring needs and purposes might be specific to each ATM network or site. With ETG, you can choose the best devices and sensors to suit your unique needs and bring them together on the powerful ETG IoT platform powered by Web NMS. The outcome is a futuristic monitoring solution to ensure just the transformation your business needs.
Customizable, scalable and interoperable – you have the right solution to get a complete grip over your business. Expand your imagination and do away with the silos – jump on  the bandwagon of futuristic organizations.
Components of the Solution

Gateway

Sensors

ETG IOT Platform
The Gateway devices facilitate communication between the sensors and the software application. The sensor data is suitably pulled from the gateway device and presented to the software application.
Multiple sensors act as the physical touch points collecting and feeding data and parameters to the gateway device.
Such as: Temperature sensor, Smoke sensor, Ambient light sensor, Vibration sensor, Anti-break sensor, PIR motion detector, Door contact sensor, AC/DC energy meter and DVR Camera.
ETG's IOT Platform powered by Web NMS provides the base for the software component of the ATM Site Manager solution. The platform possesses the capabilities to receive, analyse and provide actionable insights from data received from several thousands of sensors and enables the user to take control.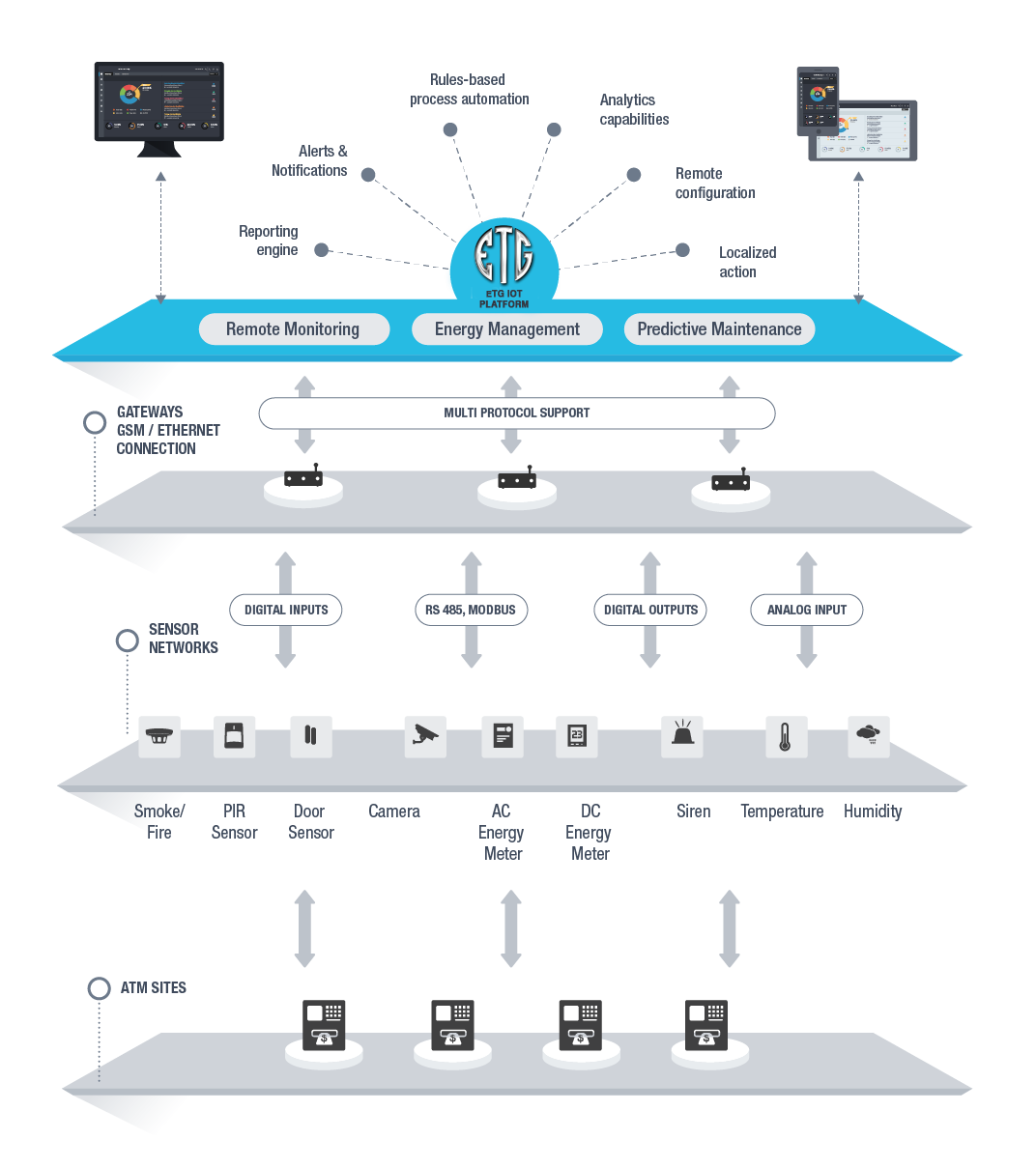 Go Leaner. Go Smarter
With Evolution Technology Group's ATM Site Manager.
Remote monitoring and configuration
Monitor, detect intrusions and locate faults at remote sites from a centralized location. Changes and configuration of RTUs located across different remote sites can be centrally affected eliminating the need for manual intervention at the site. Updates and enhancements to the monitoring system can be simultaneously affected at all sites.
Automated HVAC Control
The environmental parameters at the ATM site such as the temperature, humidity and ambient light amongst others are constantly monitored and measured. This data is used to optimize the HVAC system and to raise alerts of any abnormal conditions.
Improved energy efficiency
Monitoring energy consumption is vital as energy costs form a huge chunk of operating expenditure in any ATM network. ETG's ATM Site Manager can keep track of the mains power supply and any backup power sources. Get a comprehensive picture of energy usage pattern, power availability, power outages, duration of backup power level. The system triggers alerts and prompts swift action whenever any of these factors affect ATM site uptime. Backup power supply plays a major role in ensuring high availability of the ATM and maintaining customer satisfaction. The RMS solution fetches and analyses data from battery backup.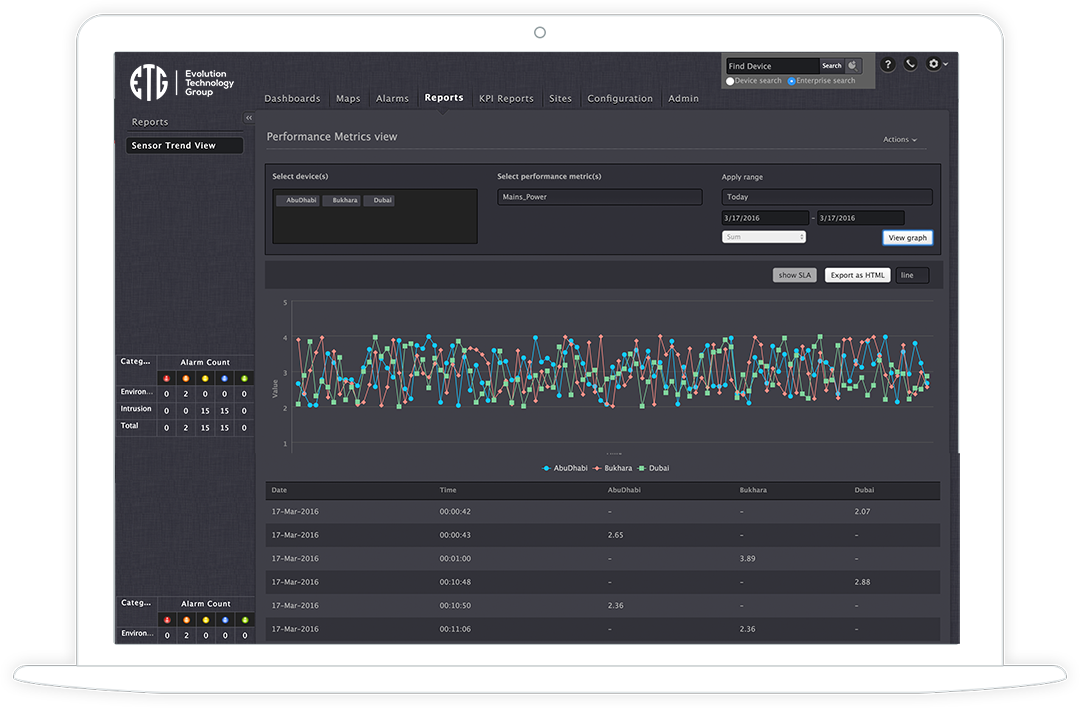 SMS/ Email Alert escalation
Instant alerts and notifications ensure that operators and technicians are immediately aware of any incidents at the site and swift action can be taken. Different levels of escalations based on the severity of the alert can be configured in the system.
Process automation & localized action
Pre-configured rules trigger local action such as the turning ON/OFF of electrical equipment, activating alarm or sprinkler system. Generation of reports at particular periods can also be automated and are mailed to the operators keeping them up to date on site operations.
Advanced Reporting & Analytics
ETG's ATM Site Manager features an advance Reporting Engine that generates KPI reports based on formulae and calculations to provide operators with actionable data. Experience the power to create custom UI reports on-the-fly with simple drag and drop actions. Key reports for various site data such as energy consumption, down hours , critical incidents are available site-wise, region-wise and for the entire network.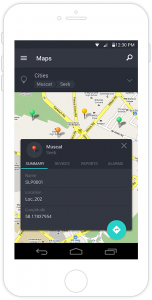 Attendance Management
Attendance records of different service personnel such as service technicians or maintenance staff can be tracked by recording swipe in and swipe out timings.
Mobile Access on-the-go
Site operators and technicians can stay up-to-date with site info on the move with mobile app designed for ETG's ATM Site Manager. View key dashboards, KPI reports, site status, alerts and much more on the mobile UI.